Korean Air has a new Top Secret Business class suite in the works which will deliver later this year. The new suite will be introduced into the airline's Boeing Dreamliner B787-10 aircraft and Boeing B777-300ER aircraft.
The airline will take delivery of 20 new Boeing 787-10, with a new business class suite seat design installed. The first delivery is scheduled for October 2023, with entry into service expected on November 1, 2023. Additionally, Korean Air plans to retrofit its existing Boeing 777-300ER business class seats with the same new suite design.
FlightChic put on her thinking cap for an educated guess on the seat supplier and model selected. It is a preview of what passengers might expect inside.
The Story of Korean Air's New Top Secret Business Suite
A clever discovery by aviation writer Seth Miller of PaxEx.aero reveals Korean Air's application to the US Department of Transportation (US DOT) this 26 July for an Amended Equivalent Alternative Determination (EAD) under Part 382.61 of Title 14 of the Code of Federal Regulations (14 C.F.R.) governing Aeronautics and Space. The request, filed under Docket DOT-OST-2008-0273-0274, is redacted to protect proprietary information and obscures the seat model and manufacturer.
The airline has filed for (EAD) of the Department's moveable aisle armrest requirement in 14 C.F.R. § 382.61. Pursuant to Section 382.61(e), requires that "aircraft delivered after May 13, 2010, must have movable aisle armrests installed in at least half of the aisle seats in which persons with mobility impairments are permitted to sit proportionately throughout the cabin."
In other words, Korean Air is asking the US DOT to acknowledge that their new suite, though it may lack a movable armrest feature, provides substantially equivalent accessibility to passengers with limited mobility in transferring from a boarding or aisle wheelchair to the aircraft seat (with or without assistance).
This type of filing is not unusual. In fact, more than 270 other similar filings are in the docket from airlines adopting new seat structures. To argue their case, airlines provide video demonstrations showing limited mobility passengers can be seated with dignity, as required.
Here are some key points from Korean Air's filing:
"The [redacted seat model], however, are integrated suite designs which cannot incorporate a moveable aisle armrest into their design."
"Korean Air is filing directly with the Department videos of assisted and unassisted transfers using the on-board wheelchair. The video depicts unassisted and assisted transfers with an aisle width equivalent to the Boeing 787-10 aisle width, which is the narrower of the two aircraft. As demonstrated in these videos, transfers to and from the [redacted seat model] are conducted safely and comfortably and in a dignified manner."
"The Department has stated that a foreign air carrier may seek an equivalent alternative determination 'if the seats in a given class of service . . . can be accessed by a wheelchair user without a movable aisle armrest being provided.' Final Rule, Nondiscrimination on the Basis of Disability in Air Travel, 73 Fed. Reg. 27614, 27652 (May 13, 2008). The information set forth in the exhibits discussed above demonstrates that Korean Air's meet the criteria for the grant of an equivalent alternative determination, namely that 'persons with mobility impairments using aisle and boarding wheelchairs can transfer horizontally into a given seat without being lifted over an armrest or other obstacle.'"
"The Department has previously granted Equivalent Alternative Determinations to the Company authorizing it to utilize similar seats in other new aircraft (see fn. 1, supra). Second, Korean Air believes that these suite designs will provide its passengers with greater comfort, convenience, and privacy than 'traditional' seating systems equipped with movable aisle armrests."
So which new business class suites might you expect to find on Korean Air's B787-10s and B777-300ERs?
The claim that the suites will offer passengers "greater 'comfort, convenience and privacy'" made me think. It really could apply to any of the business class suite models and prove true. But perhaps it's a hint that Korean Air has planned something special.
Korean Air has an established supplier relationship with Collins Aerospace. Of course, they might have switched suppliers for this new program. But Collins manufactures a suite model that meets all these requirements and claims: Elements.
It is my top pick of various possible seat models, though I'm always ready to be wrong.
I'm guessing that Korean Air has selected a uniquely customized version of the Collins Aerospace Elements premium suite. Taiwan-based STARLUX Airlines recently introduced this suite on its A350 aircraft.
This very attractive design ticks all the boxes on Korean Air's claims to the US DOT. What is more, Collins Aerospace expressly designed Elements to enhance ergonomics and accommodate limited mobility passengers on all available seats in the cabin.
Unveiling the 'Elements': Collin Aerospace's Next-Level Luxe Airline Suite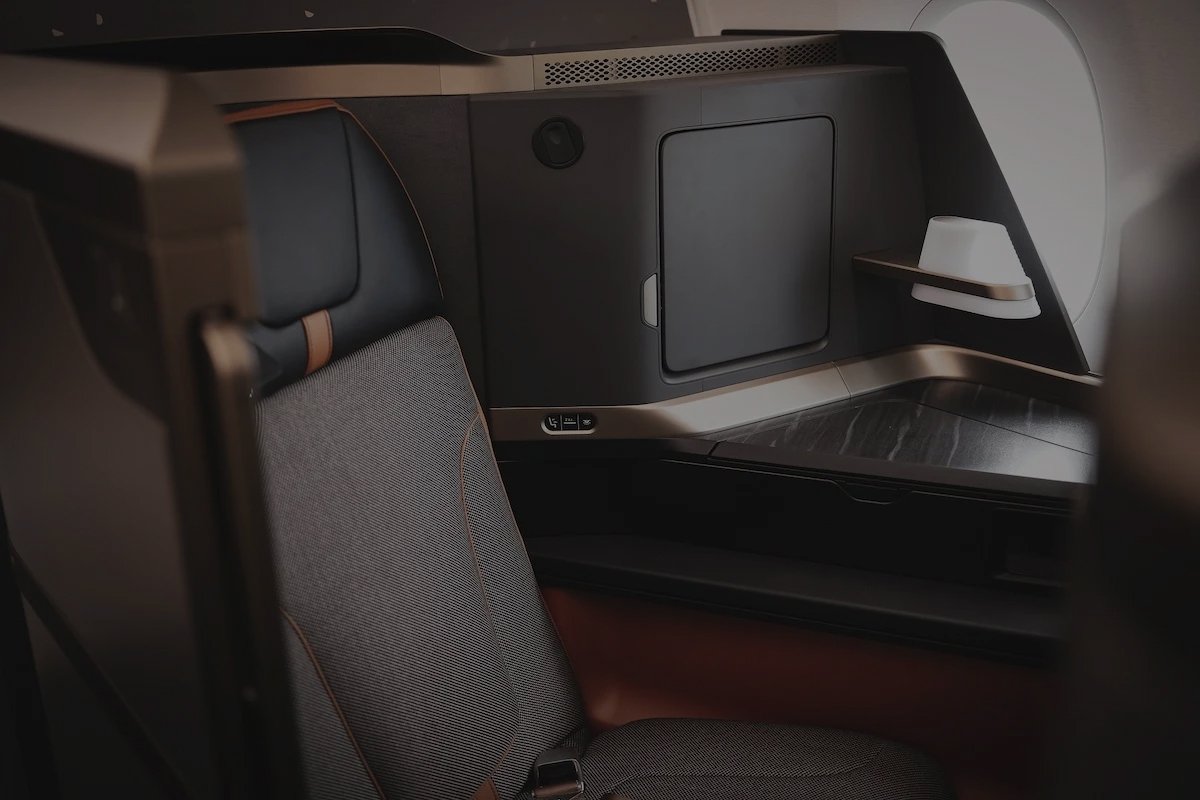 "In developing Elements, our design and engineering team took lessons from our successes in premium class seating and applied them to create a platform that further raises the bar on comfort, convenience and aesthetics," Collins Aerospace states.
Shaping Comfort With Optimized Geometry
Like previous seating models, Elements uses a reverse herringbone layout to balance passenger space and seat density. Collins redesigned the suite to improve passenger movement and comfort.
"It was critical to us to look at how we could maximize ease of mobility, both inside the suite as well as entering and exiting it," said Mark Dowty, Senior Fellow – Mechanical Design.
Collins's key design aim was to enhance the passenger experience in developing the Elements suite. The focus was on creating a standard layout, ensuring a consistent seating experience regardless of seat location.
Critically, for Korean Air's application, Collins also emphasizes the accessibility features of this design.
"This consistency is especially advantageous for passengers with reduced mobility, who typically have to choose from a highly limited selection of seats that are best suited for their needs. Through the consistency Elements provides, the entire cabin is now open to these passengers."
A Heavenly, Hyggeligt Space Onboard
The Elements suite is Collins Aerospace's latest premium seating creation. It features a door entry consistent with the airline industry's trend of offering heightened privacy for passengers.
The suite's design team took the privacy concept a step further, integrating a unique 'halo' feature into the suite walls. This ingenious addition angles inward at the top of each suite wall, serving dual purposes. Firstly, it bolsters privacy without raising the wall height, thereby maintaining a sense of openness within the larger cabin area. Secondly, the halo instills a heightened sense of seclusion for the passengers, further enriching their onboard experience.
"We realized the psychological benefit of this halo wall top when conducting comfort testing," said Dowty. "We received consistent feedback from our test passengers that the halo feature felt like a gentle embrace."
Imagining a Future of Business-First Luxury
Collins considered the industry trend of Business Class VIP seating replacing First Class cabins. The design team set a goal to maximize the premium features of the front-row seat in the Elements platform.
The result is a hybrid front-row suite that can cater to either a Business-plus or a First Class experience, depending on the airline's preference. The real game-changer, however, was the ability to create this front-row offering without compromising on seat density.
Virgin Atlantic adopted a similar strategy for its new Retreat Suite on the A330-900neo, developed by Thompson Aerospace. It introduces a unique "first-class" experience within the airline's Upper-Class cabin.
STARLUX shaped its front row into a full-fledged First Class setting with superior architecture and amenities. It offers heightened privacy with taller suite walls. The first-class suite offers more passenger room and extra storage, including an amenity drawer, luggage storage, and a coat closet.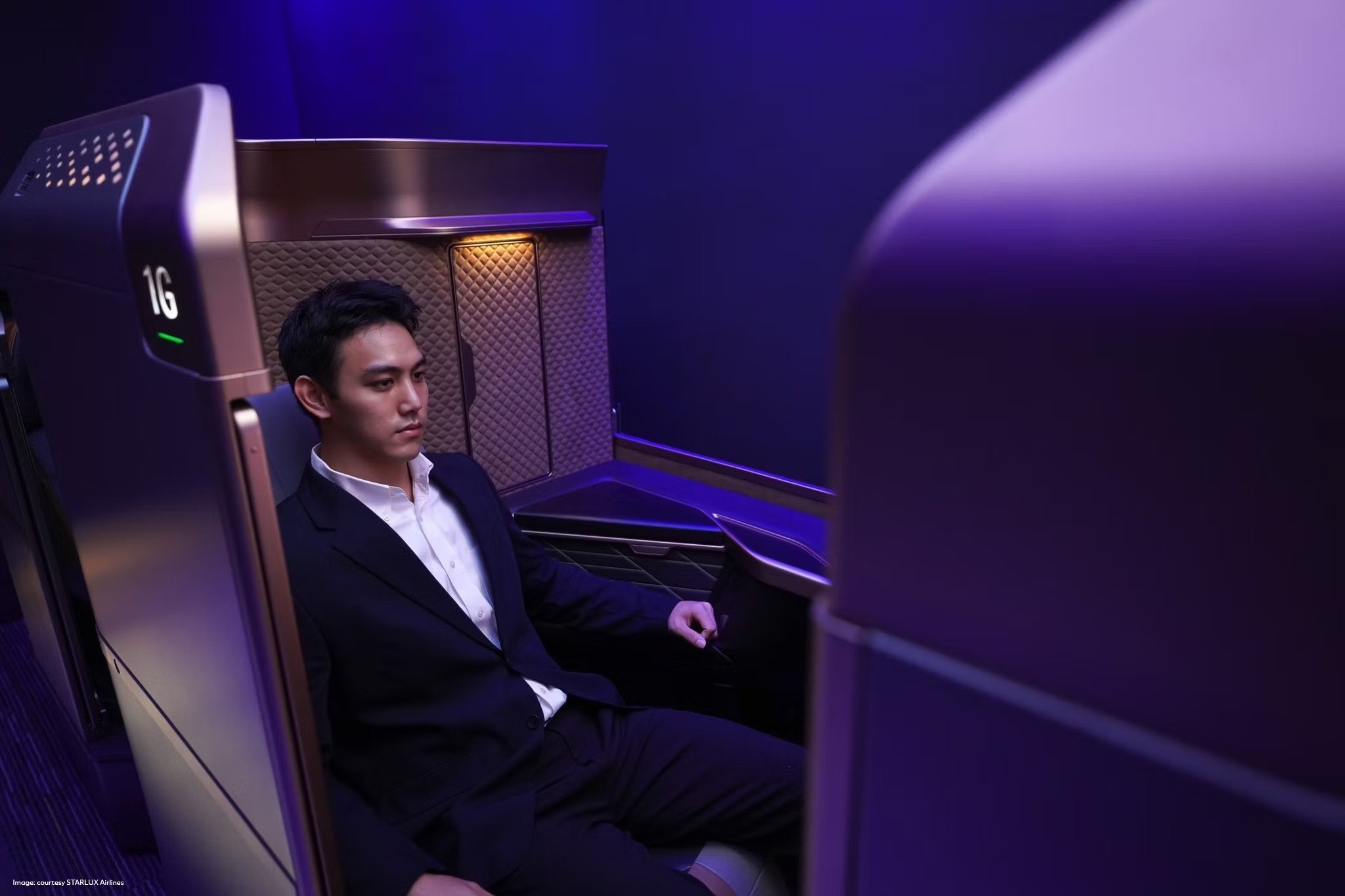 Elements: Bespoke Opportunities for Custom Branding
Korean Air would have many options available to make the Elements suite their own. This suite allows airlines to add specific trim and finish elements that echo their brand identity.
It's easy to imagine a version of this Elements suite that fits Korean Air's light and airy brand aesthetic. Imagine seats in robin egg blue with the suite structure in a pearlescent ivory and silver trim. It would be an evolution of the airline's existing Prestige Suites on the Boeing 787-9. With a halo effect, the new Elements Prestige Suites would make you feel nestled in your own private cloud.
What other seats might meet these requirements?
Business suites have become popular. There are other options in the market. I'm hazarding a guess that Korean Air will stick with Collins Aerospace. The airline maintains a high standard for its passenger experience, and the Collins Aerospace Elements suite would certainly qualify.
Korean Air will want one-up competitors by picking a new Business class suite that raises the bar on comfort and style. At the same time, the airline won't want to risk delivery delays and other issues with a wholly custom or clean-sheet design. That the planned delivery is only a few months away suggests they've picked a product that is ready for production.
Could I be wrong? Always. But wouldn't it be delightful for Korean Air passengers if I was right?
We'll know soon enough.
---
More On Collins Aerospace Seat Design